---
Click on:
BOOKS AVAILABLE AT GENEALOGY LIBRARY




---

GENEALOGY LIBRARIAN


Marilyn Fielding

GENEALOGISTS WITH
COMPUTER EXPERTISE

DAY
10:00
TO
12:00
1:00
TO
3:00
Mon.

Jack Schindler

Bill Cox
Tues.

Dean Traxler

Gloria Thorne
Wed.

Warren White

Barb McMasters
Thurs.

Dave Onan

John Gill
Fri.

Fran Allison

Lois Walsh
Sat.

Al Myers

Vickie Greenlee

SUBSTITUTES:

Carol Elrod - 284-2392
Marilyn Fielding - 267-8977
Don Schofield - 466-5047
Jewell Whitson - 415-2098
Jeanne Wolf - 437-7115

---



Genealogy Library Set-Up

929.1 How-To Aids
929.2 Family Histories
929.3 Research Sources
929.4 United States -Alphabetically by state
929.5 Canada
929.6 Europe - in New Metal Bookcases
929.7 Civil War
929.8 Revolutionary War
929.9 Native Americans

The Genealogy Library is located in the Woodlands Commons area.
Most of time it is manned by Genealogists with Computer Expertise 4 hours a day, 6 days a week to assist ones search for their family tree. If no none are present, telephone one listed on the posted schedule.



Our Genealogy President, Fran Allison,
at the computer in the genealogy library.

---
DON'T FORGET THE LIBRARY FUND DRIVE !!
Show our appreciation for their "BANK ROLLING" OUR Genealogy Society

---
Our New Books:
#1 - Early Narraguagus River Families of Washington County, Maine.
#2 - New England Captives Carried to Canada between 1677 and 1760 in the French and Indian Wars.
Our new C.D.s:
#103 Pilgrim Genealogies and Histories - 1600 to 1900's
#104 Early New York Familis.
---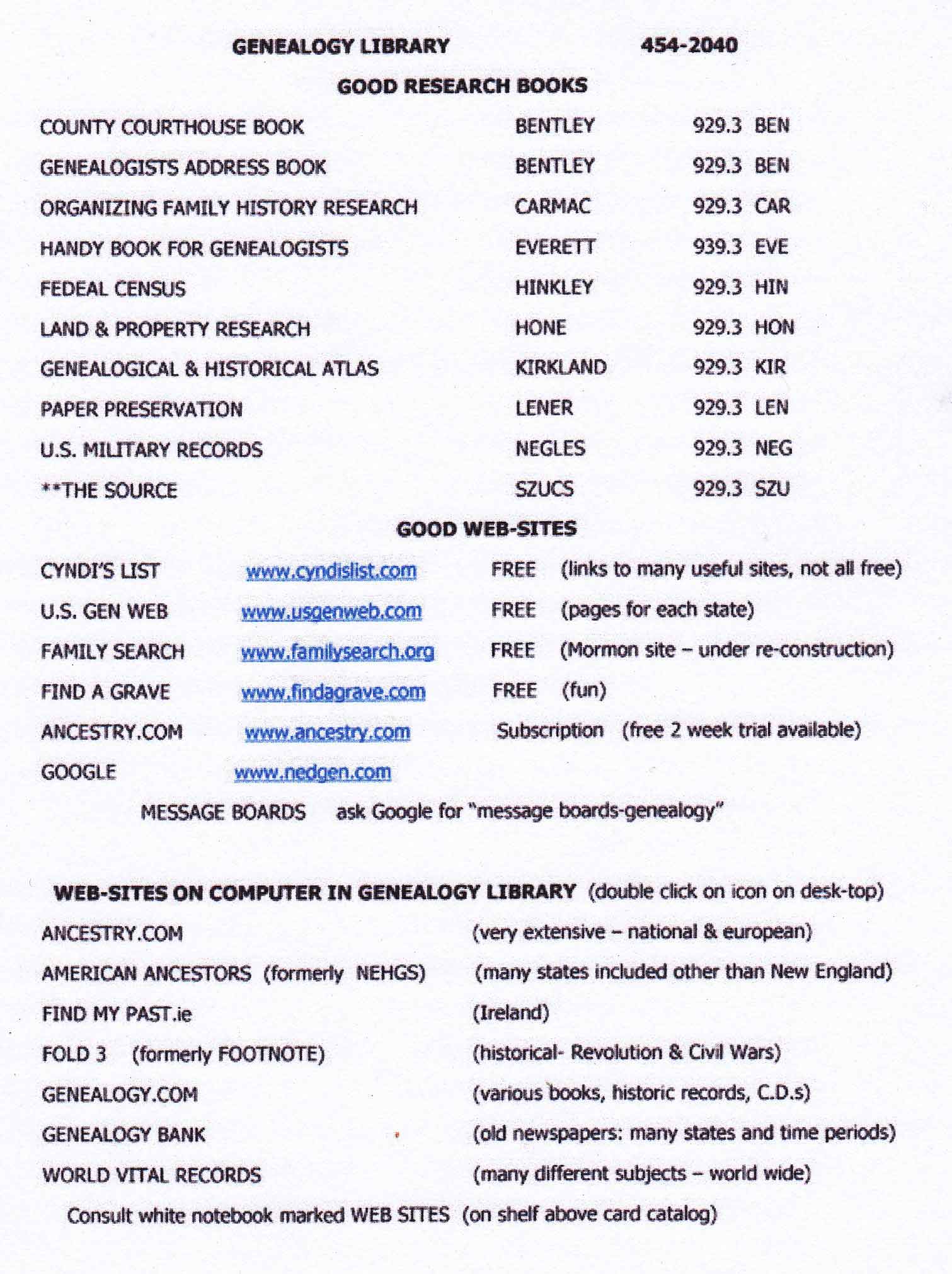 ---